Imagine if, one day, people with superpowers started popping up out of nowhere. Would you...
A. Try to capture them and find out the source of their powers,
B. Let them go about their business,
C. Be suspicious, and wary about these strange new beings, or
D. Stick them in advertisements and put them on TV?
If you picked D, then you'd fit right in with the executives at Hero TV in the city of Stern Bild, home of various superpowered mutants known as
Next
, and a major force in the latest anime to come out of
Sunrise,
Tiger & Bunny.
This series follows the exploits of the superheroes of Stern Bild, who are adorned in adverts for their varying sponsor companies. It's a pretty neat twist on the superhero genre. We rarely see how real-world advertisers might react to such huge cash cows. Superheroics are mainly a spectacle, with ratings being the highest priority as opposed to simply capturing criminals, though that does play a huge part. It's an interesting way of showing how things can be different than your typical "heroes-save-the-day" bit. The heroes compete for points, made via cool moves and arrests, and the one with the most points by the end of the season is crowned King of Heroes.
The series mainly focuses on the titular heroes,
Kotetsu "Wild Tiger" Kaburagi
and
Barnaby "Bunny" Brooks Jr.
Tiger is a veteran superhero, having been on Hero TV for years, but seemingly past his prime. His insistence on saving lives first and getting ratings second has severely lowered his popularity. His sponsors are bought out, and he's outfitted with a new suit, and given a partner, Barnaby, to form the city's first superhero tag team.
It's your typical buddy-cop comedy. With superheroes. They argue like an old married couple, and have to deal with criminals and other superpowered menaces as well as each other. The way this plays out, though, makes it seem much more fresh. It's entertaining to see their back and forth, which makes the moments when they work as a team all the better.
As it is, T&B is currently at 14 episodes, with a timeskip bridging the first two major arcs, the first of which finished in episode 13. I will refer to it in this review as the Ouroboros arc. You'll see why in just a bit. For now, let's discuss characters, plot, animation, music, and entertainment value.
------------------------------------------------------------------------------------------------------------------------------------------
Characters: We'll focus on the main cast of heroes on Hero TV in this review. Starting us off smashingly, we have...
Wild Tiger-
A veteran hero with his glory days behind him. He's paired up with Barnaby after his sponsors are bought out. He's a very familiar sight to many anime fans-the bumbling, means-well do-gooder. He manages to take this to its logical extreme-he's a full-on ally of justice, always trying to do the right thing no matter what structural damage he may do to the city. This is what causes his ratings to plummet, as he almost never gets the arrest or does anything of real value to Hero TV as a result. His chemistry with Barnaby is fantastic, and his interactions with the other heroes show a great sense of camaraderie. He has the power to increase his strength one hundred times, as does Barnaby.
Hopping forward now, we have...
Barnaby Brooks Jr.-
A rookie hero who takes the spotlight extremely quickly. He's paired up with Kotetsu in a bid for the highest ratings possible. He's a no-nonsense type of guy, wanting to get the job done as efficiently and as point-heavy as possible. Unfortunately, Tiger is nonsense incarnate, so you can imagine how well that goes. He gets the "Bunny" nickname from Tiger due to the ears on his costume, much to his disdain. As with Tiger's chemistry with him, he doesn't disappoint either, providing a good foil to his partner. As for his interactions with the other heroes, he doesn't seem to care much either way, but you can tell he warms up to them over time. He shares the same power as Tiger.
Look, up in the sky! It's a bird! It's a plane! It's...
Sky High-
The current King of Heroes. He's the perfect hero for TV. He's ditzy and he shows off a lot, but that doesn't mean he's a jerk-that's just the way he is. He's kind, friendly, and an all-around nice guy. He has a flair for the dramatic, has the catch phrase "Thank you! And, thanks again!", and doesn't appreciate it when people ruin birthday surprises. Trust me on that one. In regards to the rest of the cast, he treats them like his best friends, but his attitude sometimes leaves them thinking otherwise. He has the power to command wind and attack with it.
Fabulously on the table now is...
Fire Emblem-
an effeminate, cross-dressing, and extremely flamboyant man. He's got pink hair, lipstick, frills-the whole shebang. His mannerisms are extremely touchy-feely, but don't let that put you off. He's the CEO of his own company, and he sort of acts as a parent and helper to many of the other heroes. He's sort of like One Piece's
Mr. 2 Bon Clay-
over the top and girly while being a guy, but a badass when need be and awesome a lot of the time. Fun fact-he's voiced by Seto Kaiba. He has the power to control fire. So, I guess you could say...
He's flaming. YEAAAAAAAAAAAAAAAAAAAAAAAAAAAAAAAAAAAAAAAAAAAAAAAAAAAAAAAAAAAAAAAAAAAAAAAAAAAAAAAAAAAH!
Lightning strikes as we get into the next hero...
Dragon Kid-
A Chinese girl with the fashion sense of Bruce Lee, literally. We don't know much about her yet, though we've had a spotlight episode on her. What we do know is that she's a stubborn girl, but very motherly and caring when she has to be, and quite competent and dangerous when in a pinch, as shown in her spotlight ep. She has an aversion to things that make her appear girly. She interacts fairly well with the rest of the Hero TV crew. She has the ability to control electricity.
Let's kick up some dirt for...
Rock Bison-
a long-time friend of Tiger's and an extremely tough guy. He's down-to-earth and a fighter for sure, but he doesn't always seem to get things right. He occasionally loses points due to his tendency to get his horns stuck in something-MIND OUT OF THE GUTTER, YOU JACKALS-, which causes him to let criminals have time to escape. He's Tiger's confidant and someone who's not to be taken lightly. He's on good terms with the rest of the cast as well. He has super-resilient skin and a large amount of strength.
Wait, what's that in the background? Why, that's...
Origami Cyclone-
A Russian, Japan-obsessed hero (try finding a lot of those nowadays). He tends to stick in the background of Hero TV, and appears when he believes he'll get a lot of points. This manages to work in his favor greatly. But, that also shows how his personality is, at least, at first-he's very soft spoken and quiet, and doesn't seem to be able to open up very well, in direct contrast to his heroics, during which he grandstands. Without giving away spoilers, his spotlight episode shows why he's like this, and his personality starts to change for the better afterwards. He has-well, I can't say his power without spoiling, so go ahead and see for yourself.
Brrr...f-finally, w-w-we have the ice c-cold...
Blue Rose-
a teenage girl with hopes of being a singer, but the job of a hero. In her hero persona, she's loud and boastful, and a bit of a spotlight hog. Outside, she's an ordinary student. She hangs out with friends when she can, but there's usually something that pulls her away-whether she's needed to stop a crime or she's asked to sing at a local bar. She's a bit on edge as a result, and doesn't interact too greatly with the rest of the heroes, but that's not to say she doesn't like them. She just has other things on her mind. Over the course of the series, she gradually gains a crush on one of the other heroes-I'll let you figure out which. Her spotlight episode tells a lot about her, and what she does when the chips are down. She has the power to make ice and turn things to ice.
That's it for the main cast. Now then, time for the plot.
------------------------------------------------------------------------------------------------------------------------------------------
Plot:
I described to you the basic plot (buddy cop heroes), but that's not all there is to it. For the first few episodes, there's standalone stories that focus on characterization and getting to know the main cast. Fairly soon into the series, though, we get a hint of a bigger threat, as well as a look into Barnaby's past. In short, HIS PARENTS ARE DEAAAAAAAAAAAAAAAAAAAAAAAAAAAAAAAAAAAAAAAAAAAAAAD! And not just dead, but murdered, by a man with a tattoo familiar to those who've read the series Full Metal Alchemist-the mark of
Ouroboros.
What signified one of the homunculi there, however, here signifies membership to an evil organization, whose motives are shrouded in mystery.
Along with that, another Next appears on the scene, going by the name of
Lunatic
, killing criminals as he goes. I won't spoil his identity for you, but it's someone who's extremely close to the heroes. Both of these play in heavily to the overall plot of the series, Lunatic slightly less, however. It's being hinted that he'll have a bigger role in the second half of the show, so we'll see where that goes.
In any case, the presence of these variables throw the heroes into further danger and ups the tension. That doesn't keep the show from doing good comedy, though, and it manages to strike a good balance between the serious and the hillarious, which is more than I can say for quite a few series out there. We don't just have mood whiplash moments of laughing one second and crying the next, we have good buildup and-for the most part-good payoff.
Each episode has a coda after the ending song, showing either a little ten-to-fifteen second clip of the heroes of the episode doing something to finish off the story, or one that hints at what's to come in the future. Each episode also has a "next time" blurb, narrated by either Barnaby or Tiger. Did you know Barnaby has five pairs of the same glasses? It's pretty funny for a preview.
Now that that's done, onto the next bit.
------------------------------------------------------------------------------------------------------------------------------------------
Animation:
The animation in this series, as you would expect from
Sunrise
-animation company behind
Code Geass
and the
Gundam
franchise-is fantastic. The CG, while occasionally seeming out of place, blends in nicely with the traditional two-dimensional animation the series gives us. The opening and ending animations all look amazing, showcasing how far animation technology has gone in the past few years for anime. Many anime under-utilize it, but T&B, with its action scenes and the city of Stern Bild itself, uses it to great effect.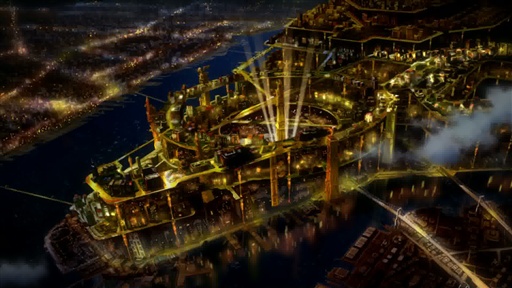 When I say it's underutilized, I'm not referring to ones that use the animation more for the background and scenery. Those anime look beautiful, and T&B uses that too with Stern Bild. I'm referring to ones that just have the animation be there thinking it'll look pretty, not putting much detail in and simply using it to create generic landscapes. Sunrise thankfully avoids that here. It just wouldn't be the same without its design.
------------------------------------------------------------------------------------------------------------------------------------------
Music:
The music in Tiger & Bunny is amazing, and I'm not just referring to the opening and ending credits. The musical cues in the series itself makes it clear that this is a superhero show-they're gonna parade it when it's getting epic. They have very good tracks for serious moments-an operatic song works wonders in scenes showing Barnaby's dead family, hauntingly so, as well as a dark song used for Lunatic's appearances-but it knows when to pump the viewer up. One cue in particular, which I refer to as "The Dynamic Duo", normally plays when a hero-usually Tiger or Bunny-comes in to kick some major ass, and you just wanna cheer.
The themes also work great-the both openings showcase the heroes and their talents, the first being a general rock song and the second being more slow. The endings are slightly different from each other, though. The first focuses more on the main duo, while the second shows each of the heroes in turn. Both songs are slow ballads, but the first leans a bit more to rock and the other to pop. All of the songs are great, and I highly recommend looking them up. You'll get their names at the bottom of this post.
------------------------------------------------------------------------------------------------------------------------------------------
Entertainment Value:
This is a show you can watch over and over and over again and still not get bored. There's cool fight scenes, engaging and interesting characters, and glorious animation and music to go with it. It also holds some good questions for the viewers-what does it mean to be a hero? Should we do things because we want the glory or to do the just and right thing? Where can one go from a hero to villain? It also has some parallels to real life, as TV Tropes points about, referring to Kotetsu's situation and the current job market. It's also got appeal to a wide demographic-while teens like me can enjoy it, Tiger's own voice actor admitted the role was meant to appeal to men in their 40s. It's got a wide range. You can like it, your significant other can, your kids if you have them, your mom, your dad, your grandp-well, maybe not him, he might ask why that confounded screen is showing flashy pictures. But it's a show meant for all walks of life.
All in all, I can't really find anything overly wrong with this. Once the series ends, I may have more to say, but as it is, this show is great. I recommend this not just to superhero fans, but to anyone who likes good anime in general. That's all I've got for you, folks, and if you've made it this far, you're the real heroes. L Lawliet, signing off. As Barnaby puts it, "See ya."
Oh, and for the interested, the theme songs for the series are as follows:
Opening 1-Orion wo Nazoru by Unison Square Garden
Ending 1-Hoshi no Sumika by Aobozu
Opening 2-Missing Link by NOVELS
Ending 2-Mind Game by Tamaki