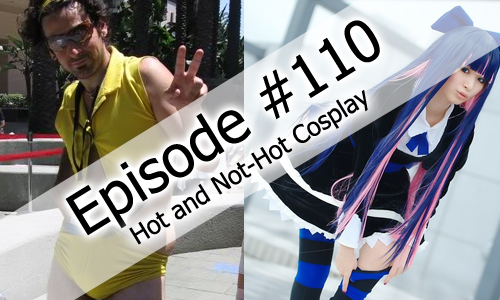 The characters that make the hottest and hideous cosplay
Episode 110: (Right Click and "Save Target As" to Download)
Here is the Music Player. You need to installl flash player to show this cool thing!
- Opening -
Opening Song:
"Youthful" from the anime Chihayafuru by the artist 99RadioService
New Forum Members:
HeavyStumbling, Of_1989, Agent X, Laughingman, superpagoda, nakuno, crutch910
Trivia
Answer: Evangelion
Correct Answers:
Rekka, Multiyogibear, thaivun, Canadaman, Rowley1080, jamezilla, GNDM-Exia, Yupa, Angelwingzero
Week Winner: GNDM-Exia
Happy Birthday To:
whackacatgirl (14), psieks (14), Lord_Zarfax (32), ranman (20), King Of Crows (23)
CHARACTER BATTLE 3  Reminder!
The A.A.A. Mailbag
DevilSurvivor writes: "Hey Anime Addicts,
As requested here are some mailbag questions:
1.What is the first anime you remember watching?
2.Can each of you recommend your favorite uncensored hentai series?(if
its not show safe, please answer on next hentai episode)
3.If you could kill any anime character who would it be? Personally I
would go into EVA and take a katana and stab Shinji through the heart
and end the annoyance that is his existence.
Cheers,
Devil"
Miguel writes "What manga do you guys still follow?"
- News Break -
- Main Topic 1 -
Hot

Not- Hot

Revy (Black Lagoon)
This one can go really wrong, but when it goes right, its really right
Meroko(Full Moon)
You know a cosplay is not-hot when a super hot asian woman wears it and you're still "meh"
Rikku (FFX)
If you google "rikku cosplay" the girls which appear generally have 3 things in common – tits, tinyness and bikinis
Sailor Moon (Sailor Moon)
Even the best cosplayers aren't really hot
Stockings (Panty and Stockings)
Thigh Highs = Win, Panty is good too, while we're at it
Faye Valentine (Cowboy Bebop)
Even if you are HOT super hot, it still somehow messes you up.
Man Faye doesn't help either
Sebastian (Black Butler)
Fairly sexy to begin with members of both genders can enjoy sexy cosplay of this character
Chii (Chobits)
Man Chii… enough said
Catherine (Catherine)
One that is SOOO easy to mess up, when it is done right, rawr
Spike (Cowboy Bebop)
Lanky white boy with a fro, great in theory, rarely great in practice

Not traditional "hot" a good Haruhi cosplayer has cute and quirky nailed down

Vash the Stampede (Trigun)
The hair, you just, cannot do the hair.  Sorry boys, it either looks like a messed up afro or a torture device
Nami (One Piece)
A show that revolves around the beach, sort of, lends itself to many hot cosplay costumes
Lucy (Elfen Lied)
They say simple cosplays are the hardest to pull off… we agree
Yoko (Gurren Lagann)
For those TWO PERCENT of ladies out there who can pull this off…. Thank you
Piccolo(DBZ)
Now it could be debated if Piccolo is "hot" to begin with, but saying he is anytime you have full body paint, body prosthetics, and a number of other add-ons its very hard to pull off hotness even if its a good cosplay
Major Kusanagi (Ghost in the Shell)
Legs, legs, and more legs, oh with a touch of badass
Hikaru Hitachiin Twins (Ouran High Host Club)
The Host Club boys are near impossible to pull off in their original hot glory
Tifa ( the right way)
Big boooobies!!

Nanami (Utena)
It is hard to look hot when dressed in a canary yellow suit
Chi Twins??!?! (Chobits)
Two for One sales win, every time.
Nausicaa (Nausicaa of the Valley of the Wind)
What makes Nausicaa hot is her inner strength and confidence, this does not translate well to photographs resulting in sub-part hotness cosplay
Deedlet (Record of Lodos War)
Another case where the original character is so viciously hot that all cosplay pales in comparison
Millie Thompson (trigun)
When you have a kind of homely character to begin with, you get this

- Impressions -
None
- News Break -
- Anime Reviews -
Mitsugi – Black Lagoon OVA: Roberta's Blood Trail
Chiaki – Witch Hunter Robin (Requested by Lycanvamp)
- Closing -
Closing Song: "Soshite Ima" from the anime Chihayafuru by Asami Seto